VM "ANGELS" SHOW UP IN UNLIKELY PLACES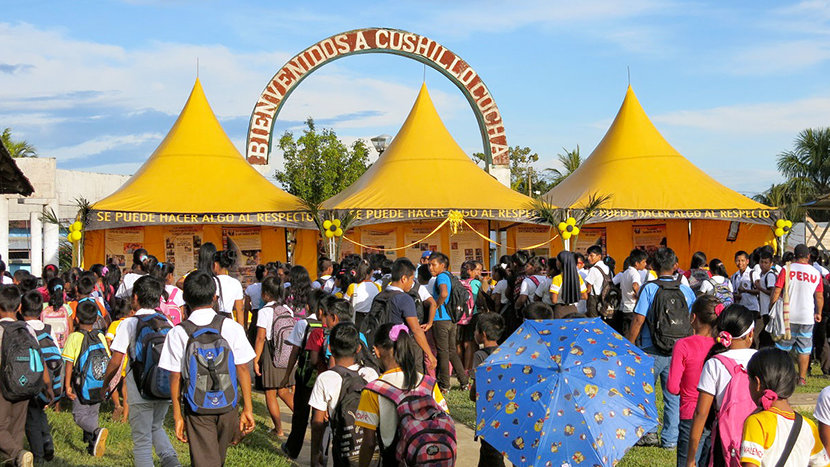 True to form, the Scientology Volunteer Ministers bring their unconditional help anywhere and everywhere to people who are looking for tools designed to help them deal with life's problems.
Your Volunteer Minister question for this month is: Where is Cushillococha?
If you have no idea, you're not alone. But that's exactly why Volunteer Minister (VM) Cavalcades exist—to extend a helping hand to those living in even the most remote lands.
Cushillococha is an Indian village in the Amazon River Basin in Peru. Inhabitants of that village welcomed the Volunteer Minister tour this past spring. After an official grand opening with a ribbon cutting by the village's deputy mayor, more than 200 poured into the VM tent. Visitors received seminars, tours and assists—the simple yet powerful procedures that improve an individual's communication with his body and can boost his health.
Witnessing the results of these assists, Cushillococha Director of Security told the VMs that, in 23 years of living in his village, he had never seen a group arrive with solutions like these. His daughter, inspired by what she saw, asked to become a Volunteer Minister.
"The help you just gave me has changed my life forever."
Meanwhile, in the more charted land of a Costa Rican town, one local man had planned to take his own life. He had prayed that an angel would be sent to help him.
The angel came the next day in the form of a smiling lady in a yellow T-shirt. She invited him into the tent and showed him the Cause of Suppression film. Through a special procedure laid out in the online course by the same name, the VM then helped the man identify who in his life was pushing him down and what he could do to handle the situation. At that point, the man's somber face grew a wide smile. "The help you just gave me has changed my life forever," he told the Volunteer Minister.
This past year, the VMs brought thousands of these simple miracles to places you may never have heard of, from Medan Baru, Indonesia to Takoradi, Ghana. In these locations, the VMs ventured off the beaten path bringing their signature yellow peaked tents and tools for life to uplift any and all.
---
FACTS
VOLUNTEER MINISTERS
Around the world have shown how much can be done about it in just the last nine months.

515,434
INDIVIDUALS
across the globe received the practical help they needed to improve their lives in VM tents.

13,088
VOLUNTEER MINISTERS
were trained in the technology to assist individuals with any of life's troubles.

250
DIFFERENT COMMUNITIES
played host to VM bright yellow tents, from villages in Peru to neighborhoods in Los Angeles.

12,282
MILES
were traveled by Volunteer Ministers to bring tools for life to people like you.

485,722
HOURS
were volunteered by VMs delivering solutions to uplift entire populations.
---
YOU CAN HELP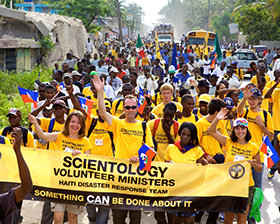 Volunteer Ministers are on call around the clock to respond to disasters of all types. Donations go toward volunteer travel expenses as well as basic resources for disaster victims, including food, water, tents and medical supplies.