A BRIGHT YELLOW TENT ON THE COLOMBIAN BORDER BRINGS HOPE TO VENEZUELANS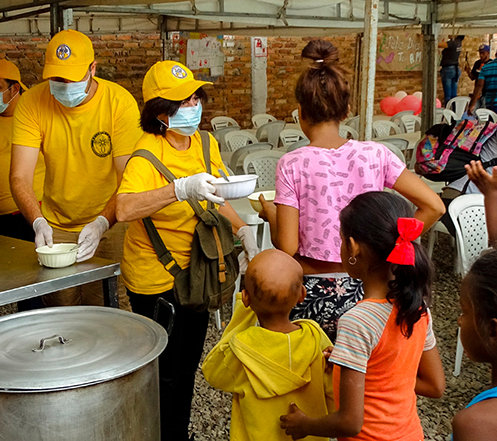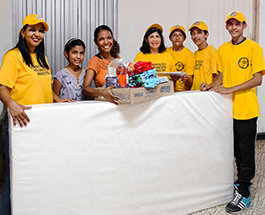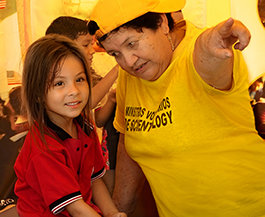 Scientology Volunteer Ministers are working with churches, relief agencies and other nonprofits in Cúcuta, Colombia, to help refugees from Venezuela.
Venezuela's social, economic and political crisis has created a humanitarian disaster. According to Organization of American States Secretary-General Luis Almagro, Venezuelans comprise "the second-largest refugee population in the world, second only to Syria, which has been at war for 7 years." The crisis has set off a staggering exodus, with 4 million people—over 12 percent of the population—leaving the country in recent years. A key destination for refugees has been Cúcuta, a Colombian city bordering Venezuela.
A team of Colombian Scientology Volunteer Ministers (VMs) has been providing relief to thousands of refugees who cross the border from Venezuela to Colombia each day. In a shelter established by a Catholic church in Cúcuta, VMs have helped prepare and distribute food to the refugees each day. On one day, five VMs served 13,000 meals while also caring for 2,000 children from nearby schools.
At their bright yellow VM tent in the central plaza in Villa del Rosario, VMs provided one-on-one emotional and spiritual care through Scientology assists, which relieve suffering and trauma. They also delivered seminars to help people overcome their insecurity, assess their options and plan for the future.
Volunteer Ministers also worked at the Greek Orthodox Church of the Holy Family in Barrio Bellavista. Father Timoteo requested aid from the Church of Scientology to support 50 Venezuelan families in urgent need of basic supplies such as mattresses, cooking stoves, gas and basic hygiene supplies. The 50 families were handpicked by Father Timoteo after a census of 1,000 families was done. With a grant from the International Association of Scientologists (IAS), the VMs met the request, purchasing the items so needed. The 50 families were presented with their items, including a new mattress for each. In recognition of their work, Father Timoteo presented the VMs with a plaque that reads, "The Sacred Orthodox Archbishopric in Colombia grants the present recognition to the Scientology Volunteer Ministers for their humanitarian, philanthropic and spiritual work in integral care to the human beings in the Colombian-Venezuelan border area." The VMs have served over 76,800 meals, delivered 1,632 Scientology assists and delivered 620 seminars imparting vital VM technology. And their help continues today.
---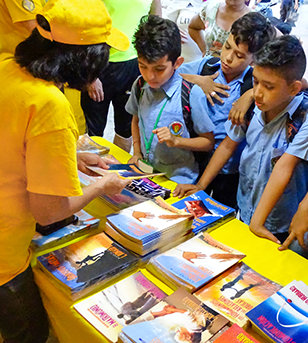 TAKING ACTION
Share Your Story with Us
Do you have a story to tell—as a Volunteer Minister yourself or about receiving help from a Volunteer Minister?
We'd like to hear it! Send us your story and any photos or video of your activities.
Perhaps you were on-site when Volunteer Ministers responded to the terrorist bombings in Sri Lanka, or you were there when we delivered VM tech in the Kenyan prison system, or your own marriage was salvaged with the help of a Volunteer Minister. Write your story, select your best photos and send it in! We will be sure to share your good news with the world.
You can always write to us regarding this newsletter—to give feedback, request a topic or to share your own story for inclusion in the next issue.
This is all to say that this is your newsletter and your feedback and contributions are welcome. With a regular distribution to thousands of people reading in 17 different languages, a newsletter with your story can touch and uplift many lives.
---
MAKE HELP POSSIBLE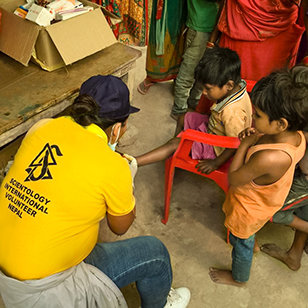 Volunteer Ministers are on call across the globe and around the clock to respond to any and every disaster. Your contribution will fund volunteer travel as well as food, water, tents and medical supplies for disaster victims.