HELPING A KANSAS COMMUNITY PICK UP THE PIECES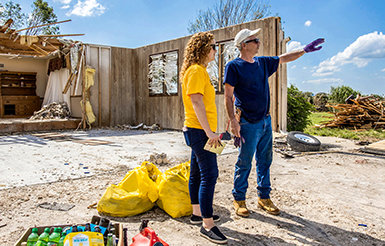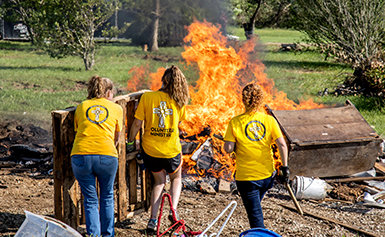 VMs help families clean up after a mile-wide twister tore through Linwood, Kansas.
When a mile-wide tornado rampaged through Linwood, Kansas, at 170 mph, damaging or destroying a dozen homes, a team of Volunteer Ministers (VMs) responded.
Before the VMs got into action, they had to survive an adventure of their own. They were at the local fire station to find out what help was needed when a fireman rushed in saying, "There's a tornado coming, 15 minutes, get everyone secured!" But as the tornado shelter room was already filled with donated supplies, the first assistance VMs rendered was to form a human chain to rapidly move the supplies out to make room for firemen and the VMs. The storm hit—an intense 10 to 15 minutes of downpour and hail—and then abruptly stopped and it was blue skies again. Then the VMs went out to help those most in need—the homeowners. The small community of 400 was devastated by the impact of the twister. Families needed help cleaning up what was left of their homes and salvaging what they could find, and the VMs got to work, moving furniture, hauling out debris and searching the rubble for anything worth saving. "At one house there was nothing left but the foundation," said a VM. "So we pitched in and did all we could to help the family."
---
WE REALLY WANT TO

hear

FROM YOU
Scientology assists address spiritual factors in stress and trauma. Here is what some who had their first assists had to say about what they experienced.
FIREFIGHTER AFTER RECEIVING A NERVE ASSIST
"Thank you, Scientology. I am so happy you guys are here. You helped me relax, and now I can finally go to sleep after not being able to for two days straight."
FIREFIGHTER WITH SHOULDER PAIN AFTER AN ASSIST
"How does this work? What happened? This is a blessing and I don't know how to explain it. I was in so much pain, and now I feel very relaxed."
FIREFIGHTERS AFTER RECEIVING ASSISTS
"I feel like a million bucks!!"
"I feel lighter!"
"Wow! I feel amazing!"
"Oh man, you gotta try this!"
"Can you guys come to every fire?"
DISASTER SITE VOLUNTEER
"This [assist] is unlike anything I've received. I had lower back problems, and then it went away and now I am actually able to walk better than before. I am not so stressed-out. I can even see better than before. How is that? I felt like I was looking through clouds! I can go back and start working even more now!"
EARTHQUAKE SURVIVOR
"Before meeting the Scientology Volunteer Ministers, I felt very bad. After receiving the Locational Assist, I found my smile again."
WOMAN RECEIVED AN ASSIST AFTER AN ARGUMENT WITH HER HUSBAND
"I feel like I am actually in the present now. I kind of felt like the world was ending, but I do feel now that I can actually fix that bump with my husband and move on to happier things."
---
FACTS
ALL IN ONE YEAR
Just how much help do Volunteer Ministers deliver in a single year? Here are the numbers:
3,703,264
PEOPLE
were helped by Volunteer Ministers in the past 12 months alone
436,072
MILES
traveled anywhere and everywhere by VMs delivering help to others
3,571
SEMINARS
delivered imparting vital Scientology technology to address the many difficulties and problems of life
16
COUNTRIES
where Volunteer Ministers responded to man-made and natural disasters
19,360
VOLUNTEER MINISTERS
trained in one year to continue and help expand on the help delivered last year
---
MAKE HELP POSSIBLE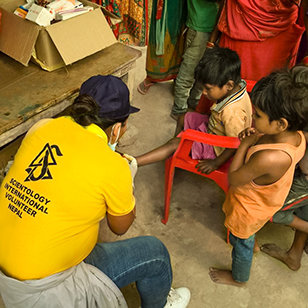 Volunteer Ministers are on call across the globe and around the clock to respond to any and every disaster. Your contribution will fund volunteer travel as well as food, water, tents and medical supplies for disaster victims.