HOW ONE DOCTOR IN BURUNDI USES VM TOOLS TO BRING HELP TO HIS IMPOVERISHED NATION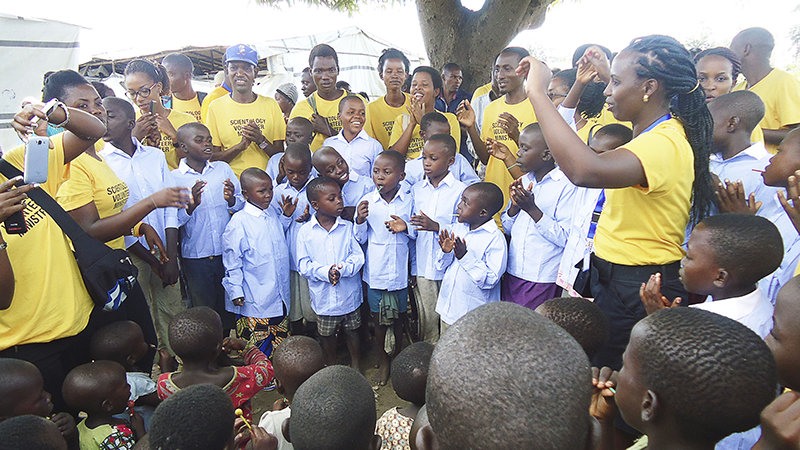 Dr. Jacques Mpawenimana has transformed his non-profit organization into a Volunteer Minister crusade aimed at uplifting the people of his native land.
In 2016, Burundi was ranked the world's least happy nation. Plagued with corruption, a weak infrastructure and poor health and educational services, Burundi has struggled to rise from its position as one of the five poorest countries in the world.
In an effort to bring new hope to the children of his desperate nation, Dr. Jacques Mpawenimana and Jean Pierre Hakizimana started Health for All, an organization for Burundi's more than 500,000 orphans.
In spite of his humanitarian ambition and medical expertise, Mpawenimana recognized that he lacked tools. "We have a vision but we do not have sufficient knowledge to understand 'the why' and face things," he said.
Mpawenimana found what he had been looking for in the Scientology Volunteer Ministers (VM) website, and began taking its free online courses immediately.
As a doctor, the VM Technology of assists naturally caught Mpawenimana's eye. Scientology assists for illnesses and injuries are techniques that address physical difficulties by helping put an individual into better communication with his body. In short order, Mpawenimana and Hakizimana had organized a seminar for 23 volunteers from his association, introducing them to Scientology and assists.
But the two leaders did not stop there. Each went on to complete all 19 VM online courses, learning the tools to handle every aspect of life.
Many members of the Health for All team have moved through the online courses themselves. Volunteer Eric Barakamfitiye, who recently completed the entire VM line-up, wrote after the Honesty and Integrity Course: "I have personally changed completely from the useful knowledge I gained. When I now look in the mirror, my face is brighter and happier. I am really there."
Mpawenimana's Health for All now calls itself the Burundi Department of Volunteer Ministers. In April, the team collected food and clothing and visited a refugee camp where 850 live in privation, with little food, clothing or medical care.
The Burundi VMs delivered clothes, salt and soap to 120 adults, provided belts and other clothing to 50 children, and gave treats to more than 200 children. The grateful refugees asked the team to always stay beside them. "With the concepts of Scientology," Mpawenimana said, "we can say that we are doing well."
---
TAKING ACTION
Thousands Equipped with Tools for Life
On any given day, you will find a Volunteer Minister empowering those who want to change conditions by delivering on-the-ground seminars that show them how.
In the last six months, VMs have delivered 305 such seminars on a range of life skills, including how to predict behavior, raise children, resolve conflicts and study well.
Seminars take place in countries as diverse as Fiji, Haiti, Taiwan and Kenya.
In Kenya, for example, the Pastor of the Church of the Holy Spirit in a local village requested that VM Daniel Okello "feed them with the truth about life."
So, with a seminar on the components of understanding, Okello taught church members how to use communication to bring about affinity and reality in making decisions for the congregation, thereby easing what had been upsetting situations within the group.
---
WE NEED YOUR HELP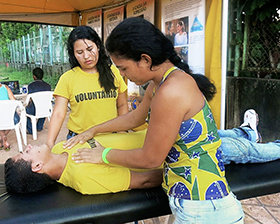 Volunteer Ministers are on call around the clock to respond to disasters of all types. Donations go toward volunteer travel expenses as well as basic resources for disaster victims, including food, water, tents and medical supplies. Because many VMs are also trained in superb organizational methods, they assist other relief workers so operations progress as efficiently as possible in a chaotic atmosphere.