HELPING THE PEOPLE OF NEPAL RECOVER, AND SHOWING THEM HOW TO HELP THEMSELVES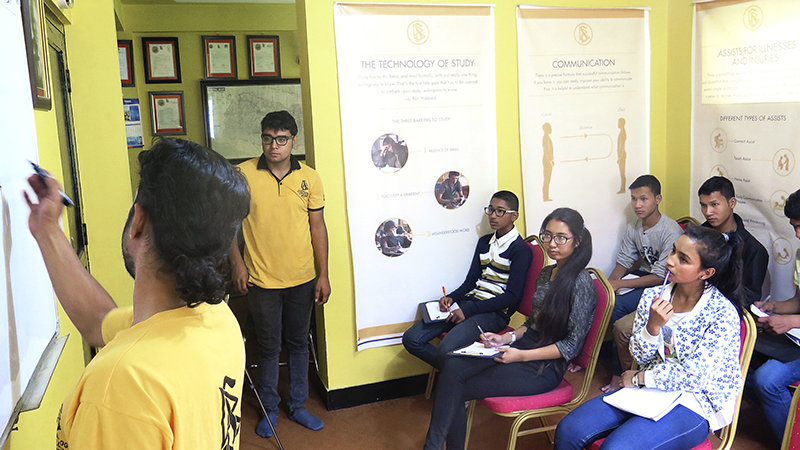 Volunteer Ministers shift the focus from immediate disaster response and saving lives to creating a future with life-skills training. The VMs are dedicating their efforts to empower the Nepalese people with invaluable tools by which to improve their lives.
Volunteer Ministers take the saying to heart that if you give a man a fish, you feed him for a day, but teach a man to fish and you feed him for a lifetime.
Accordingly, after their heroic work to help Nepal recover from devastating earthquakes last April and May, the Volunteer Minister (VM) Nepal team established official headquarters in Kathmandu—to help, yes, but more importantly to show others how to help themselves. From their headquarters, the VMs ensure the people of Nepal have the skills not only to survive future disasters, but to conquer the universal challenges of day-to-day life.
They do this through workshops held for hundreds every week, covering one of the 19 Volunteer Minister Scientology Tools for Life Courses, with practical drills to ensure each attendee can apply what they learn and use it to make a difference.
While they reflected on what had befallen Nepal, at the same time, the VMs resolved all the more firmly to see to it that this country emerges a stronger nation.
On the rebound from their 7.8-magnitude earthquake, the Nepalese people thereby gain answers not only to recover, but to gain knowledge they never previously had—answers to resolving conflicts, organizing for success, handling suppression, confronting a dangerous environment and more.
In between clearing demolished houses, serving clean water and organizing free health checks in 17 districts (response work they have not abandoned), the VMs concurrently strengthen Nepal's next generation by building their ability to learn. Visiting dozens of schools across Nepal, the VMs have delivered seminars on Scientology Study Technology—revolutionary tools to overcome the key barriers to understanding and mastering any subject.
To commemorate the one-year anniversary of the earthquake this past April, the Volunteer Ministers joined local residents for condolence ceremonies.
But while they reflected on what had befallen Nepal, at the same time, the VMs resolved all the more firmly to see to it that this country emerges a stronger nation.
---
FACTS
VOLUNTEER MINISTERS
Prove that something can be done about it across the globe
61,199
PEOPLE
were trained on Volunteer Ministers tools that enable them to help anyone, anywhere.

2.8 Million
PEOPLE
were helped by a Volunteer Minister.

168,291
MILES
were traversed by Volunteer Minister goodwill tours.

5 Million
PEOPLE
were reached with the Volunteer Minister message through the media.

988
FREE COURSES
were completed on the Volunteer Ministers website.
---
WE NEED YOUR HELP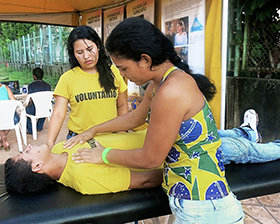 Volunteer Ministers are on call around the clock to respond to disasters of all types. Donations go toward volunteer travel expenses as well as basic resources for disaster victims, including food, water, tents and medical supplies. Because many VMs are also trained in superb organizational methods, they assist other relief workers so operations progress as efficiently as possible in a chaotic atmosphere.