SEMINAR HELPS REFUGEES WITH COMMUNICATION SKILLS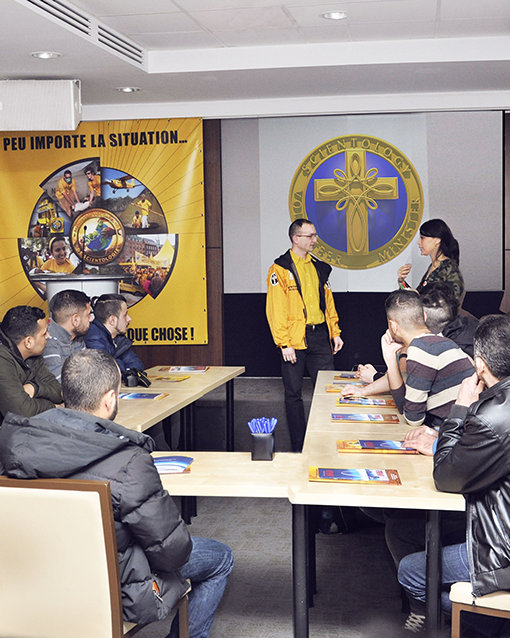 Professionals, forced to leave the Middle East, improve skills in their new country.
In honor of World Civil Defence Day, the Churches of Scientology of Europe in Brussels, Belgium welcomed refugees from Iraq and Syria for a Volunteer Minister seminar. The subject was communication.
Attendees represented a variety of socio-economic levels from engineers and media directors to carpenters and opticians. Each had been a professional in his former hometown and now found himself having to start over again, building a communication network in a totally new environment.
The seminar opened with a video presentation from the Volunteer Minister Tools for Life DVD, followed by a Power-Point on the Scientology communication formula and simple procedures anyone can follow to achieve interpersonal success.
With the help of an Arabic translator, seminar attendees next did communication drills from the handbook for Volunteer Ministers. During this exercise, refugees began to relax and laugh for what appeared to be the first time since they left their home countries.
Afterwards, attendees shared what they gained from this. All agreed the tools were highly beneficial, requesting a second session to master the remainder of the communication drills.
---
WE

really

WANT TO HEAR FROM YOU
In every country on Earth, you will find individuals doing one of the 19 free online courses. The successes pour in daily and speak of futures brightened and lives changed.
SUCCESS FROM PAKISTAN AFTER COMPLETING THE
VM SOLUTIONS FOR A DANGEROUS ENVIRONMENT COURSE
The course was marvelous! I came to the realization that we are always able to do something for our problems but we get overwhelmed by their accumulated amount. If we take them separately and handle them one by one, then we can be cause over them.
SUCCESS FROM SOUTH AFRICA AFTER COMPLETING THE
VM ETHICS AND CONDITIONS COURSE
I have gained knowledge on how to use graphs to visualize, create and compare statistics for different aspects in my life. By being able to understand these statistics, I can evaluate which condition a certain aspect of my life is in and from learning the condition formulas, I now know that there are systematic ways to deal with them.
SUCCESS FROM COLOMBIA AFTER COMPLETING THE
VM ANSWERS TO DRUGS COURSE
This course allowed me to strengthen my skills and gave me new tools to help others cope with withdrawal symptoms, learn to overcome an addiction to drugs and achieve full recovery.
SUCCESS FROM BURUNDI AFTER COMPLETING THE
VM INVESTIGATIONS COURSE
I am completely changed. I can fix or improve any situation. The Investigations Course gave me a new perspective on how to examine and analyze a problem. It showed me how to put my attention on important elements of the problem and find more concrete solutions. Today I am able to identify the negative things in my workplace and resolve them so my company can become more ideal. I intend to apply this course in all my endeavors to improve my life.
---
WE NEED YOUR HELP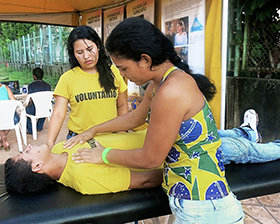 Volunteer Ministers are on call around the clock to respond to disasters of all types. Donations go toward volunteer travel expenses as well as basic resources for disaster victims, including food, water, tents and medical supplies. Because many VMs are also trained in superb organizational methods, they assist other relief workers so operations progress as efficiently as possible in a chaotic atmosphere.